---
Ponder This!

We know that the atheists can never destroy the Word of God or the testimony of those who believe its message.
---
Other Pages...





Peter Orasuk Testimony
A drug addict and dope peddlar, who was rescued by God to become one of the most dynamic Gospel preachers of our time! Peter's poignant and soul-searching testimony lives on in audio of a Gospel meeting in Northern Ireland. More than 31,000 already have downloaded it from the website of an organization called SermonAudio. Here is theBy so much was Jesus made a surety of a better testament. Hebrews 7:22 Sermon Audio link!
---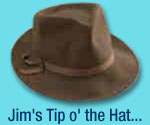 ...
...is to a tiny redhead who 45 years ago transformed our world by her arrival at the Victoria Public Hospital in Fredericton. So grateful for all the joy and experiences that have flowed from that happy day. Happy Birthday, Dorothy!

---
---
Read today's devotional from the best-loved calendar, Choice Gleanings!
-0-
The Gluten-Free Corner
Check here for recent additions, as I build this resource for those of us Christians who need to avoid gluten.
-0-
Daily News that Christians can Trust

Edited by Jim MacIntosh
The International Scene
Top Canadian Stories
Huge Cyclone Hits Australia
BOWDEN - A powerful cyclone carrying winds of up to 263km/h has made landfall in Australia. (More...)


---

Russian Police Arrest Navalny
MOSCOW - Russia's main opposition leader, Alexei Navalny, has been arrested at an anti-corruption protest. (More...)


---

Avalanche Kills 8 Children
NASU - Eight Japanese high school students are feared dead, after they were caught in an avalanche. (More...)

No Canada Device Ban Yet
OTTAWA - Canadian security experts are puzzled about why the federal government has yet to announce whether it will follow the United States and United Kingdom in banning most electronic devices from the cabin on certain international flights. (More...)


---

Bernier Would Deploy Military
TORONTO - Conservative leadership candidate Maxime Bernier says he would dedicate more resources to address the flow of migrants crossing the U.S.-Canada border illegally; and if that doesn't work, he'd consider temporary measures, including deploying the military to the border. (More...)


---

A Letter to His Estate
CAMPOBELLO - As the saying goes, nothing in life is certain except death and taxes, but New Brunswick resident Peter Harwerth just didn't expect to experience the latter while he was still alive. (More...)


---

Maranatha! Listen to
1 Thessalonians 4:13-18-->
by Dr. Charles E. Fuller
Christians in the News
$Today's Business Highlights$
Passing Through Fire?
Are you feeling the heat of the flames of trials. Does it all seem too much to accept and endure? You are not alone! A Brother who is also feeling the heat of the fire has compiled some thoughts that will surely help. (Click here) to see if this Brother's thoughts can help you with your own!


Monday's Close

Market................Close....Change

TSE.........................15506.22..+ 63.55
Dow Jones................20550.98...- 45.74
NASDAQ...................5840.37....+ 11.63
$C in $US = $0.7474...+ $0.0001


---

New Grandson Arrived!!
A new photo of the grandparents with our newest grandson is added to the page with pictures of our grandkids; very pleased with the first MacIntosh boy in the family. Please check the pictures of our favourite seven.

---
Pray! Gospel Meetings
Please keep in mind for prayer the various series of Gospel meetings planned, underway, and recently ended!

Brody Thibodeau and John Meekin have wrapped up a series in English Point, Labrador. And Gordon and David Swan have completed a Gospel series in Charlottetown, Labrador.

Pray on!
---
Sussex Gospel Hall
Please check out the Sussex Gospel Hall's official Web site, with information about the Assembly and our meetings and activities, downloads of messages, and more.
Please check us out at this link!

---
Leland Swan: The Bard of Millbrook!
Maybe you didn't know that Leland Swan is a poet! Yes he is, and we have proof.
Check out some of Leland's poems and other writings at this link!

---

Please check out Scott MacLeod's website, The Glorious Gospel, which has an excellent variety of material for saint and sinner alike, as well as links to all of the Prince Edward island assemblies and other valuable resources.
---

PBS offers free of charge specialized Bible study materials that can be downloaded and used as Sunday School Lessons, Bible Class Worksheets and Home Bible Study Notes. They also provide an ideal curriculum of those who are Home Schooling.
---
Your Assemblyline Editor
click on this link!

---
MacLeod School Christmas Concert
A peek back in history, to a time when one-room schools used to put on a Christmas concert every year. Some of us still remember the Christmas Concert!

---
Lies of the Versions
Lies are being told to convince us to read Bibles other than the King James Version. Read about these lies Here!

---
Stay in touch with AssemblyLine Twitter tweets
---
Copyright© 2017 MacIntosh Technical
The Gospel of Christ
The most wonderful, most necessary, yet most ignored message in the world. Select a Gospel message prepared by Eddie Wong from the following list:
---
Eddie's Main Gospel Page
Mark 1:15
John 3:16
John 8:12
John 14:6
Romans 5:8
Romans 6:23
2 Corinthians 6:2
Ephesians 2:8-9
1 Timothy 1:15
1 John 1:7
---
Christian Supplies

Bibles, Books, Literature, Sunday School Resources, and much more

The web outlet for Seaside Scripture Supplies, operated by Gordon and Sandra Swan, your source of biblically-sound material with a selection of text and reference Bibles, Bible study helps and accessories, Christian books, Sunday School supplies, and other scripture-related products such as CDs, Bible cases, Christian calendars, etc.