---
Ponder This!

The Lord Jesus wants the Gospel preached in all the world. That includes the part of the world that you occupy.
---
Other Pages...





Peter Orasuk Testimony
A drug addict and dope peddlar, who was rescued by God to become one of the most dynamic Gospel preachers of our time! Peter's poignant and soul-searching testimony lives on in audio of a Gospel meeting in Northern Ireland. More than 27,900 already have downloaded it from the website of an organization called SermonAudio. Here is the Sermon Audio link!
---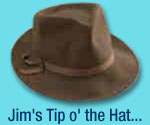 ...
...is to a son who graduated from NBBI with a GPA of 4.0 in his final year, and picked up a nice scholarship along the way. Good work, Tom, and congratulations!

---
---
Read today's devotional from the best-loved calendar, Choice Gleanings!
The Gluten-Free Corner
Check here for recent additions, as I build this resource for those of us Christians who need to avoid gluten.
Daily News that Christians can Trust

Edited by Jim MacIntosh
The International Scene
Top Canadian Stories
Oklahoma Tornado Kills 91
MOORE - At least 91 people, including 20 children, were feared killed when a 3 km wide tornado tore through an Oklahoma City suburb. (More...)


---

Israelis Fire at Syrians
JERUSALEM - Israeli troops shot at a target across the Syrian frontier after gunfire struck its forces in the Golan Heights. (More...)


---

Life Sentences in Rana Collapse
DHAKA - A committee investigating a deadly collapse of a garment factory in Bangladesh will recommend life sentences for nine people detained. (More...)

Harper Unhappy about Scandal
OTTAWA - Anyone who wants to use public office for their own benefit should find a new line of work, Prime Minister Stephen Harper said - for the first time addressing a deepening scandal related to Senator Mike Duffy's repayment of improperly filed expenses. (More...)


---

Carney Gives Parting Advice
MONTREAL - As Bank of Canada governor Mark Carney prepares to leave Canada for his new duties with the Bank of England, he does so with some parting advice - seize the country's natural advantages. (More...)


---

Late Newfoundland Snowstorm
GANDER - A freak snowstorm hit Newfoundland and Labrador over the Victoria Day weekend, putting a freeze on long-weekend plans and blanketing residents under record-breaking snowfall. (More...)


---

Behold I Come Quickly -->
Read by David Oliver
Christians in the News
$Today's Business Highlights$
Passing Through Fire?
Are you feeling the heat of the flames of trials. Does it all seem too much to accept and endure? You are not alone! A Brother who is also feeling the heat of the fire has compiled some thoughts that will surely help. (Click here) to see if this Brother's thoughts can help you with your own!


At Wednesday's Close

Market................Close....Change

TSE.........................12753.50..+ 10.07
Dow Jones...............15307.17..- 80.41
NASDAQ.................3463.29....- 38.82
$C in $US = $0.9645 - $0.0094


---

New Photo of Kyllah
An updated picture of Tom and Deborah's baby Kyllah is added to the page with pictures of our grandkids; she has made herself very popular since joining to the family. Please check the pictures of our favourite six.

---
Pray! Gospel Meetings
Please keep in mind for prayer the various series of Gospel meetings planned, underway, and recently ended!
Murray McCandless is preaching the Gospel in the home of Christians in Madawaska, Maine, with some blessing and good interest.
Pray on!
---
Sussex Gospel Hall
Please check out the Sussex Gospel Hall's official Web site, with information about the Assembly and our meetings and activities, downloads of messages, and more.
Please check us out at this link!

---

It has been 100 years since the "unsinkable" Titanic went down in the North Atlantic. Using the Titanic anniversary theme, Brian and Steve Owen have created a matching set of Gospel literature items for series of Gospel meetings, distribution at Fairs, and other outreaches. These items are beautifully designed professionally printed on quality paper.
---

The International Bible House Publishing Society (IBH) promotes the use of literature as a means of spreading the gospel of our Lord Jesus Christ. IBH supplies Bibles, texts, booklets and tracts primarily to Christians who gather to the Name of the Lord Jesus Christ and are interested in distributing Godís Good News to the world, with a particular interest in providing literature in the many languages spoken by newcomers to Canada and the USA.

PBS offers free of charge specialized Bible study materials that can be downloaded and used as Sunday School Lessons, Bible Class Worksheets and Home Bible Study Notes. They also provide an ideal curriculum of those who are Home Schooling.
---
Your Assemblyline Editor
click on this link!

---
Should Anyone Suffer from Crohn's Disease?
click this link!

---
Stay in touch with AssemblyLine Twitter tweets
---
Chart: Mountain Peaks of Prophecy
See it here!
---
Copyright© 2013 MacIntosh Technical
The Gospel of Christ
The most wonderful, most necessary, yet most ignored message in the world. Select a Gospel message prepared by Eddie Wong from the following list:
---
Eddie's Main Gospel Page
Mark 1:15
John 3:16
John 8:12
John 14:6
Romans 5:8
Romans 6:23
2 Corinthians 6:2
Ephesians 2:8-9
1 Timothy 1:15
1 John 1:7
---
Christian Supplies

Bibles, Books, Literature, Sunday School Resources, and much more

The web outlet for Seaside Scripture Supplies, operated by Gordon and Sandra Swan, your source of biblically-sound material with a selection of text and reference Bibles, Bible study helps and accessories, Christian books, Sunday School supplies, and other scripture-related products such as CDs, Bible cases, Christian calendars, etc.